Conscious Little Christmas Gift Guide: Extended Edit
Christmas is a time for celebration, Celebrations and jubilation, but more often than not it turns into a treadmill of buying, buying, buying - oh wait and a bit more buying.
So this year put your hard earned pounds into someone else's hard earned pockets and buy from small, ethical companies.
With new technology and new working practices alive and well, small biz and handmade gifts now rival and surpass the standards of any factory made product. So away with your thoughts of DIY, loose stitched handmade market goods.
These guys are punching in the big league, yet they're not knocking anyone out in the process.
Delve in. And buy knowing you've made someone's day.
Organic Tee by Birdsong £56
OK, maybe I'm biased. But this fried egg tee by Birdsong is bloody beaut. It's also handpainted in the UK by Mohila, a group of migrant mothers based in Tower Hamlets, London.
They are paid a living wage for the work they do under Birdsong's promise of no sweatshops, no photoshop and fashion industry standards that are fairer for women.
Get yours at birdsong.london
I'm Fine Screen Print by JOLT £10
JOLT is the homeware and lifestyle brand of Designs in Mind; a working studio where adults living with mental health challenges work as a team on experimental, ambitious and high quality art and design work.
Their prints, textiles and other homewares not only look good but together your purchase helps improve the lives of those living with mental health difficulties.
Their Christmas campaign this year is encouraging people to #BuySocial this Christmas. Use #GoodEgg to join the community.
But this print at thisisjolt.co.uk
Peanut Butter Chocolate by Naive 7 Euros
Chocolate is a sweet, sweet gift from the gods. Four day whipped and churned peanut butter, this bar is made in a little town on the Eastern side of Lithuania. Chocolate Naive is sexy, sassy and cute and guaranteed not to go to waste.
See also their orange and liquorice flavour and tahini flavour.
7 euros at chocolatenaive.com
Two days ago I commenced my journey on the sleep mask revolution. Life-changing is not a term I use lightly, but after decades of waking up feeling like a zombie, I have twice woken up feeling like fresh, lamb in the two nights I have worn a sleepmask. Coincidence, I think it is not.
The space mask is the holy grail of sleep masks. Infused with jasmine these babies heat up upon skin contact and send you off to "Interstellar Relaxation."
Christmas Spice Eco-Soy Social Candle £15
Because even the meanest Scrooge can't resist a Christmas candle. This one is made by our favourites Know the Origin.
A UK-based company that stands for honest brands, fair workers standards and environmental care and commitment, their clothes have long been an affordable and stylish way to step out. This new candle signals a very exciting flirtation with homewares.
Get this spice, spice baby at knowtheorigin.com
Designed by Leeds-based Laura Wellington this blue beauty is a gift for someone who has been very good this year. With wooden shapes hand turned in Ireland, fabric cords chosen from Italy, the decadent gem shaped bulbs coming from the US and hand painted/finished by Laura in the UK, the Totem is a completely unique, international affair. For the luxe eco warrior in your life.
Buy at laurawellington.co.uk
McNair Mountain Jacket £450
Men, let us not forget you. Let us not just buy our man folk last-minute socks from Primark for Christmas. Shirts by McNair are life-long purchases. Not cheap, but not fleeting. McNair keeps the wind and snow at bay and is as good ten years on as day one.
Made in world-famous wool producing, Huddersfield, these shirts have all the technical properties of nylon and plastic waterproofs, but none of the afterlife in landfills.
Buy yours at mcnairshirts.com
Aurora Babes and Bad Examples Ring £129
I very much want this ring. I have not much more to say apart from the fact that naked lady fashion is very du jour and this may just be the creme de la creme of naked lady attire. BABE says Aurora is everything they stand for. She is strong, and full of life and she will not be cast aside. Buy at babesandbadexamples.com
Ohne Tampon Delivery Service From £6.80
Give the gift that keeps on giving. Ohne organic tampons delivery service is calling bull on tampons made with pesticides - and heading out in our PJ's at 11pm to buy them, too.
Their tampon delivery services delivers applicator and non-applicator with a frequency that works for you.
A great (and v useful) gift for a friend, sister, recently pubescent niece….
Start your delivery service at ohne.co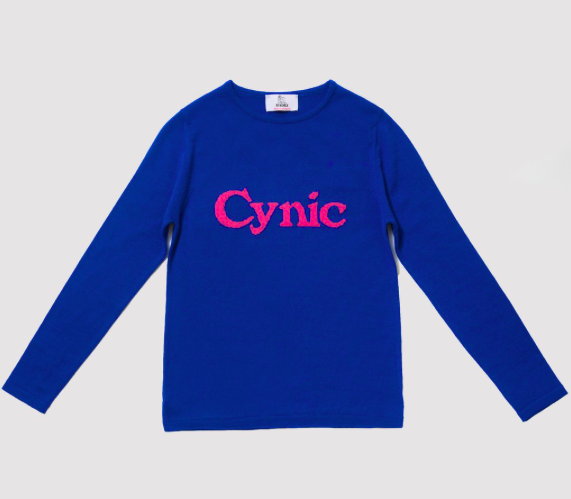 Hades Wool Cynic Jumper £160
Statement knitwear will always be appropriate. This merino wool jumper by Hades Wool is the perfect gift for someone who regularly needs a bit of 'me time'. A clear indication to 'stay back' this jumper is essentially a frown without the wrinkles. Ideal for the non-Christmas, Christmas friend/family member.
Buy at hades-shop.co.uk
Soap Block by Toast £9.95
Soaps please me because I know they will get used. Everyone needs a good clean. This one comes in five fragrances: Cardamom, Vetiver, Lavender, Rose Geranium and Petitgrain.
Made in Lancashire they are hand cut and stamped and made using sustainable plant oil.
Get yours at toa.st
Hemp Lead Sage by The Dog Edit £25
Our dogs are are best friends. Mine (Pogo) would feel a million bucks walking to the pub on Boxing Day wearing this natural hemp lead. Handmade using traditional nautical rope work techniques and £1 from every sale goes to Blind Dog Rescue UK. Get yours at thedogedit.com
Martha Bag by Rag Makers £60
Rag Makers is a mother and daughter practice, inspired by women who spent their lives working in the rag trade. Based in West Yorkshire, this bag is the perfect gift for a busy lady.
Buy at rag makers.com
Just four classical composers (Bach, Beethoven, Mozart and Tchaikovsky) wrote almost all the music played by modern orchestras***.
So let's do our bit for modern retail and make sure that the majority of our Christmas purchases are not bought from just four super large retailers.
See you at the (online) check out.