Plate Expectations: Yolklore's Free-From Dining Guide
From vegan fine dining to gluten-free fast-food, a new wave of credible free-from restaurants means the future's bright for all those dealing with dietary restrictions.

While dining out should be a pleasure accessible to all, for many it's a minefield brought about by diet. In 2017, two million Britons were diagnosed with a food allergy – a stat that doesn't include food intolerances – and whether it's dairy, gluten, soy, nuts or sulfites to be avoided, it's often been safer to stay in and stick to what you know rather than brave that new restaurant down the road.
Luckily the past five years has seen a boom in free-from dining options that spans the country, giving those with dietary requirements of all stripes genuine options. While in the past those with intolerances might have faced a solitary menu option at best, there now exists a vibrant roster of restaurants either specialising in free-from food or at least offering separate menus that appear far more than just an afterthought. Covering fine dining to fast food via a range of global cuisines, here's our nationwide list of favourite free-from restaurants.
London's first vegan pub opened its doors in 2017, marking the start of what has proved a plant-based revolution in the capital. Alongside its long line of vegan beers and wines is a standout food menu from chef Meriel Armitage's Club Mexicana. Having previously pioneered her concept of high-quality vegan fast-food at a series of popups and supperclubs, Armitage's characterful vegan Mexican cuisine is a colourful clash of fresh flavours across a menu of tacos, nachos, burritos and some of the city's best 'wings'.
For those first diagnosed with gluten intolerances, the prospect of a life without pasta can be near impossible to bear. Yet – as this Soho institution proves – there is hope, as proved by its comprehensive menu that spans Italy's culinary canon. From antipasti to a full selection of freshly made pastas made from a highly digestible blend of organic flours, plus beautifully light foccacias and bruschettas, Leggero has been an understandably welcome addition to central London.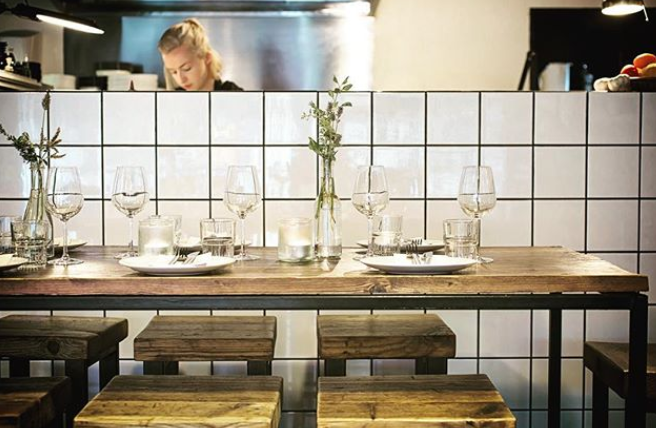 With an MO to rethink vegetarian dining, Flow is among the best of Bristol's new wave of restaurants helping position the city as a plant-based capital. Set in a beautiful pared-back space in an unlikely spot off the Bearpit roundabout, its founders have created a laidback range of small plates that showcase locally produced and foraged ingredients – think wild mushrooms, salt-baked beets and tempura spring onions – while a creative cocktail list and biodynamic wines mean you can make an evening of it.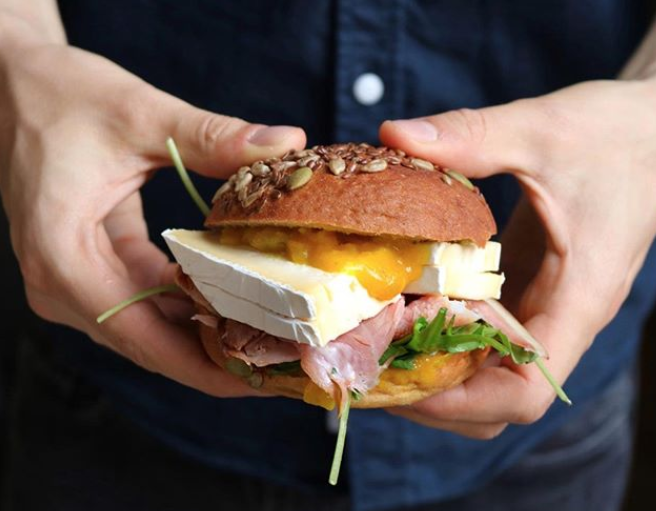 The concept of a gluten-free bakery would have left many scratching their heads a decade ago. Yet for Elena Golubovich it was an opportunity to share her mastery of baking with London's bread-starved gluten-free population. Now, four years after its launch, Beyond Bread has three branches across London selling a vast range of breads, pastries and cakes, putting previously unheard of luxuries on the menu for many, while behind the scenes a team of experts continue experimenting with flour mixes and pushing the boundaries of gluten-free baking.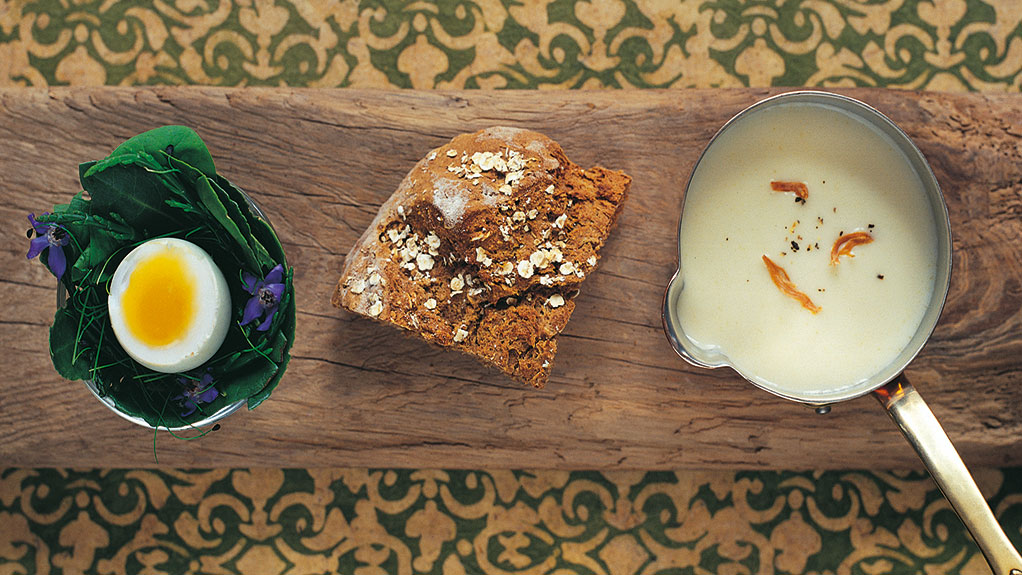 With 26 years of experience to its name, Terre a Terre has a rich history in serving plant-based food that keeps people coming back. Set in the heart of Brighton's lanes, its founders Amanda Powley and Philip Taylor have applied their classical chef training to produce a high-end vegan and vegetarian menu that spans genres and geographies and feels light years away from the lentil-clad cliches found elsewhere.
This intimate, family run bistro celebrated its fifth birthday this year and – as the city's first-ever gluten-free restaurant – has proved something of a pioneer. Although tucked away to the side of the Town Hall, the city's coeliacs continue to seek it out for its diverse menus that span sandwiches and burgers through to a French-inspired à la carte menu, the popularity of which has spawned a second site of the same name in nearby York.
Showcasing the flavours of southern India, Dakhin has amassed a strong free-from following as the UK's first Indian restaurant to serve 100 per cent gluten-free food. Offering light yet nourishing fare that focuses on the combination of of rice, coconut, lentils, and regional spices,
standout dishes include flame-grilled monkfish, masala dosas and tender lamb biryanis.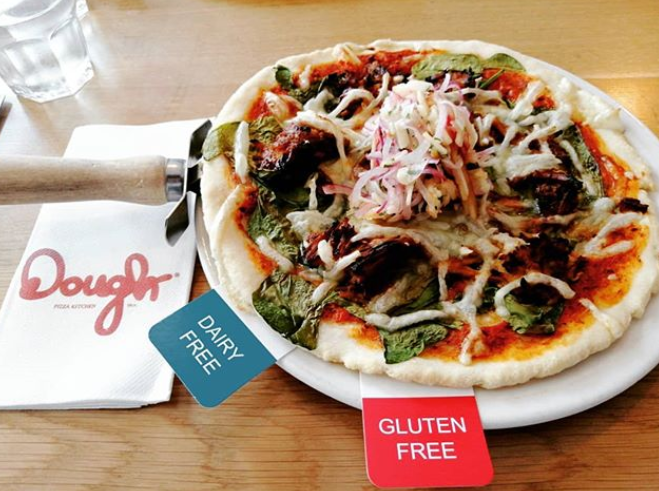 Dough Kitchen, Manchester
Set in the heart of Manchester's Northern Quarter, Dough Kitchen does a fine line in pizza with a decade's experience to its name. With pizza usually off-limits to free-from diners, Dough Kitchen has spent time finessing its gluten-free bases to enable diners to choose from a host of innovative toppings – the likes of chicken balti and English Breakfast sit alongside more traditional offerings – while the addition of vegan cheese and pulled jackfruit is sure to keep vegans sweet, too.
Shakey Shakey Fish Bar, Ramsgate
Tucked away in the back streets of this royal harbour city, Shakey Shakey has become a go-to for Kent's gluten-intolerant population in search of good fish and chips. Earning a cult following for its fantastic food, friendly staff and secret-recipe seasoning – which is available to buy – Shakey Shakey's menu ticks off the classics (including cod, haddock, scampi and fishcakes) with trimmings, while a newly launched vegan menu is sure to win over even more devotees.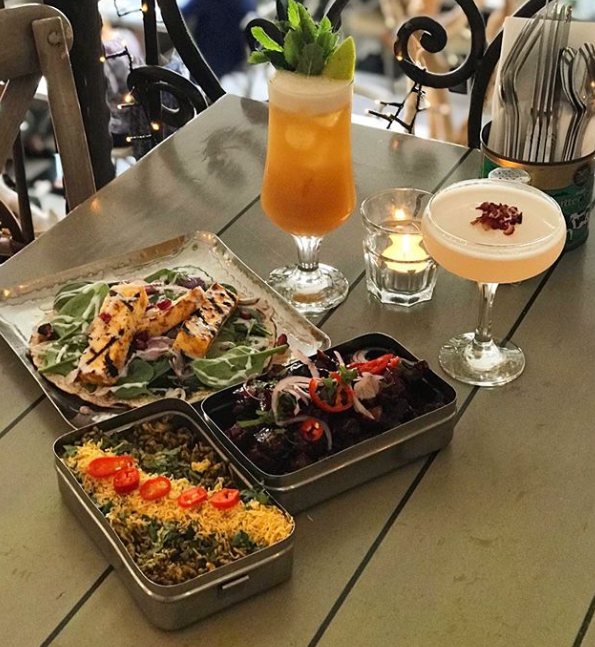 Proving such a success since first opening in Liverpool in 2014 that's it has now expanded to six more cities across the country, Mowgli's founder Nisha Katona has finessed a modern take on Indian cuisine inspired by authentic street food and at-home dining. Set in characterful, laidback spaces, Mowgli's menus offer a vibrant array of dishes including small sharing chaat plates, Hindu curries and tiffin boxes, with substantial vegan and gluten-free options meaning nobody misses out.
Read our interview with Mowgli Founder, Nisha Katona here.